Acknowledgements
Abstract
The editor would like to acknowledge and thank several institutions and individuals for their assistance in realising this little magazine.
Thanks to the Faculty of Education and Arts of the University of Belize for endorsing this project. Thanks to Ubaldimir Guerra, department chair for Languages and Literature during the planning stages, for his work supporting, prodding, and encouraging development on the project. Thanks to Virginia Hampton, current department chair, for supporting the project through to its realisation.
Thanks to Ann Knoll of the Snite Museum of Art who managed to track down records on the howler monkey maskette (Fig. 1) featured as frontispiece to this issue despite the nearly twelve intervening years since I took that blurry photo of the artwork at the University of Notre Dame's Snite Museum of Art in South Bend, Indiana, USA, where it was on loan from a private collector.
Copyright for the image of the Late Classic 'Chama style' polychrome vase (Kerr number 3413) used in the cover design is held by photographer Justin Kerr, inventor of the 'rollout' photography technique for capturing images of antique vases; see mayavase.com. The detail depicts the monkey scribes Hun Batz and Hun Chuen 'patrons of the arts' taking notes at a ceremony of tribute.
The photograph of the Ancient Greek Attic vase in the 'Black-Figure' style is reproduced courtesy Wikimedia Commons (User:Sailko). The detail depicts the muse of epic poetry, Calliope, as part of a wedding procession in one of the friezes of the Franc?ois Vase by the ancient Athenian vase painter, Kleitias.
The photograph of Hugh Broaster's 'Abstract Woman' (upon which the ekphrastic series is based) is taken by Miriam Loh. The sculpture appears courtesy the owner, a private collector of Belizean art.
All other photographs and images of artwork are included by permission of their creators, as captioned.
Finally, big thanks to the students and contributors whose work graces the leaves of this little magazine, making it possible in the first place. May your efforts to nurse that divine creative impulse be blessed: all the best on your respective academic- and creative-writing journeys.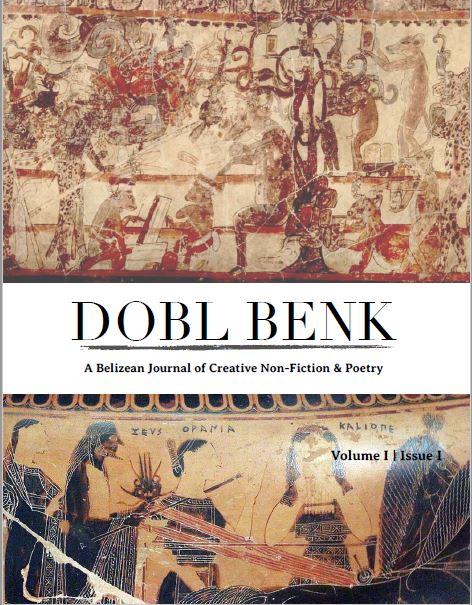 Downloads
How to Cite
De Shield, C. L. (2018). Acknowledgements. Dobl Benk, 1(1), 9. Retrieved from https://ojs.ub.edu.bz/index.php/db/article/view/99